I comb my hair from left to right and my left temple is weaker than my right temple. I have come to realize this is likely from traction hair loss. I usually comb it several times throughout the day and I've got to stop this. Americans (or Westerners maybe) tend to comb from left to right, patients are typically weaker in the left temple, and there's a decent possibility that traction loss from combing is the cause.

Something for everyone who combs their hair a bunch to keep in mind.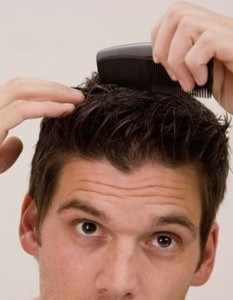 Traction alopecia doesn't usually occur from combing your hair even when you continuously comb it in one direction. Traction alopecia typically occurs when hair is continuously pulled way too tightly. Thus, unless you have been wearing your hair in an extremely tight ponytail or some kind of braids, I would think your hair loss is related to something else, the most common of which is genetic male pattern baldness (MPB).
I suggest posting some pictures of your hair thinning if you would like some more specific input on your situation.
Best wishes,
Bill
Managing Publisher
—-
David
Editorial Assistant and Forum Co-Moderator for the Hair Transplant Network, the Coalition Hair Loss Learning Center, and the Hair Loss Q & A Blog.
To share ideas with other hair loss sufferers visit the hair loss forum and social community.
Technorati Tags: hair loss, Traction alopecia, male pattern baldness, MPB