This question was asked by a member of our hair loss social community and discussion forums: 
Recently I've been ingesting larger amounts of beta carotene and I'm beginning to wonder if it can cause hair loss? I know beta carotene and Vitamin A are related, and I also know Vitamin A has been linked to baldness, so I'm worried beta carotene could cause similar issues. Should I limit it from my diet? Can beta carotene cause hair loss?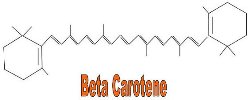 While I've also read that Vitamin A (in excessive amounts) can cause hair loss, most of the data reviewing the subject is over a decade old and seems to indicate general skin disorders as more of a concern.
Furthermore, like you stated earlier, although beta carotene is converted into Vitamin A in the body, research indicates that conversion of beta carotene to "retinoids" (Vitamin A stores in the body) is selective and, therefore, cannot cause the Vitamin A toxicity (Hypervitaminosis A) associated with hair loss. What's more, because beta carotene is crucial in human visual pathways and visual acuity, it's probably not advantageous to excessively limit beta carotene from your diet.
Altogether, beta carotene cannot cause hair loss and foods containing beta carotene (carrots, leafy vegetables, etc) should not be limited from the body. However, keep in mind that excessive amounts of Vitamin A (in levels beyond the metabolic capabilities of the human liver) can, allegedly, cause dermatological issues, including hair loss. Because of this, any type of Vitamin A regimen or restriction should be reviewed by a trusted hair restoration physician beforehand.
_____________
Blake Bloxham – formerly "Future_HT_Doc"
Editorial Assistant and Forum Co-Moderator for the Hair Transplant Network, the Hair Loss Learning Center, the Hair Loss Q&A Blog, and the Hair Restoration Forum
Follow our community on Twitter
Watch hair transplant videos on YouTube
Technorati Tags: hair loss, beta carotene, Vitamin A, hair restoration physician