I was reading your Hair Loss Myths article, and the section on 'Styling and Hair Loss' was brought to my attention. I have dyed my hair using various products and various colors for the past 9 years. I have damaged my hair, but I have never lost hair until I recently used the color enhancing conditioning formula of a well-known semi-permanent hair dye product. I followed the directions, and applied the product two weeks after the initial dyeing to enhance my color and help prevent it from fading. The directions told me to wear gloves, so I assumed it had to be somewhat potent and not just a regular conditioner. After I rinsed the product out (after 5 minutes, like the directions said), I noticed that clumps of hair were being washed out too. It was scary to see all that hair in the shower. It wasn't just damaged hair from breaking, it was hair falling out of my scalp in small clumps. After I brushed my hair, more and more hair fell out. This thinning hair has been devastating for me, as my hair is now significantly thinner (though I am not bald). I just wanted to let you know that hair products can cause hair loss. From the sources I have spoken with, it is likely caused by the PPD in the dye. I just wanted to give you some insight on this.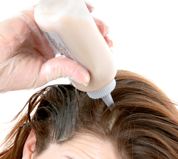 Thank you for taking the time to share your experience. I'm very sorry to hear that you experienced hair loss due to this hair coloring product.
Yes, of course, you are correct. There are chemicals that can easily damage the scalp and hair follicles resulting in temporary and sometimes permanent hair loss. The most damaging of these are probably chemical straighteners that can burn the scalp if used improperly. Certainly, balding that occurs abruptly after the application of a product to the scalp would imply this type of damage.
However, the article in question is meant to convey to balding men and women that the routine application of hair sprays, gels and even coloring products combined with daily brushing and combing should not result in hair loss. Instead, the majority of these hair loss sufferers are experiencing androgenic alopecia (genetic balding) that has progressed slowly over a period of time.
It's always best to consult a dermatologist when any unusual hair loss is observed.
—-
David (TakingThePlunge)
Forum Co-Moderator and Editorial Assistant for the Hair Restoration Forum and Social Network, the Coalition Hair Loss Learning Center, and the Hair Loss Q&A Blog.
Technorati Tags: Hair Loss, thinning hair, bald, balding, androgenic alopecia