This question comes from a member of our hair loss social community and discussion forums: 
I recently started noticing signs of androgenic alopecia (male pattern hair loss), and I've heard I can cure the condition with special shampoo. Is this true? Is there a shampoo that can cure my hair loss?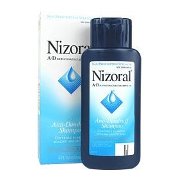 Unfortunately, a shampoo with the capability to cure hair loss is not available at this point in time. While some shampoo products may claim to cure hair loss, these statements are not likely backed by objective research and safety/efficacy trials.
However, there are some shampoos – available today – that may help maintain hair and prevent progressive shedding when used in conjunction with other hair loss medications. Many patients and hair restoration experts alike believe that ketoconazole-based shampoos are one of these products.
Ketoconazole is traditionally used as an anti-fungal medication, but it also possesses anti-inflammatory and anti-androgen properties. Because it can potentially decrease scalp inflammation and block androgen hormones like dihydrotestosterone or DHT (the hormone responsible for hair loss in androgenic alopecia), ketoconazole shampoos may be helpful for balding patients. However, most report the greatest response when using ketoconazole-based shampoos with other preventive hair loss medications like minoxidil (Rogaine) and finasteride (Propecia). In fact, many hair loss sufferers refer to the regimen of ketoconazole-based shampoos, minoxidil, and finasteride as the "big three" of hair restoration treatment.
Currently, most use shampoos containing 1- 2% ketoconazole, like Nizoral and Revita; and these products are available at our online hair loss shop. It is also important to remember that patients should consult with an knowledgeable hair loss physician before starting any new medication or therapy.
__________
Blake Bloxham – formerly "Future_HT_Doc"
Editorial Assistant and Forum Co-Moderator for the Hair Transplant Network, the Hair Loss Learning
Center, the Hair Loss Q&A Blog, and the Hair Restoration Forum
Follow our community on Twitter
Watch hair transplant videos on YouTube
Technorati Tags: hair loss, androgenic alopecia, male pattern hair loss, hair restoration, DHT, balding, hair loss medications, minoxidil, Rogaine, finasteride, Propecia