This question, from a member of our hair loss social community and discussion forums, was answered by Coalition hair transplant surgeon Dr. Glenn Charles:
Three months ago, I underwent Follicular Unit Strip Surgery (FUSS) and I need to return to work. I haven't told anyone at work about the procedure and I would like to keep it to myself. Because of this, I'm looking for ways to camouflage my healing hair transplant scar. Any suggestions for hiding the scar? Also, is it safe to use concealers 3 months post-op?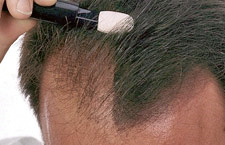 At 3 months post-op there should not be any harm caused by using cover-up products (concealers) on the donor area. However, I do recommend cleaning area daily.
As far as actually camouflaging the scar is concerned, DermMatch – or another cream-based product like COUVRe- might work a little better because you can carefully place it directly on the scar.
If you are going to use a microfiber product – such as Toppik or Nanogen Fibres  – you will also need the holding spray (locking mist). However, either type of concealer will likely provide you with decent coverage and allow you to keep the procedure to yourself.
Dr. Glenn Charles
_____________
Blake – aka Future_HT_Doc
Editorial Assistant and Forum Co-Moderator for the Hair Transplant Network, the Hair Loss Learning
Center, the Hair Loss Q&A Blog, and the Hair Restoration Forum
Follow our community on Twitter
Watch hair transplant videos on YouTube
Technorati Tags: hair loss, hair transplant, Follicular Unit Strip Surgery, FUSS, hair transplant scar, concealers, DermMatch, COUVRe, Toppik, Nanogen Fibres