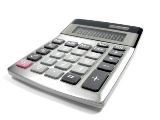 Although many hair restoration patients desire an exact calculation of the number of follicular unit grafts necessary to fill their balding scalp, many hair transplant experts claim this simply isn't feasible. Various tools, such as the hair loss learning center graft calculator can interpret a hair loss sufferer's desired graft placement density combined with the area of balding scalp and offer insightful estimations, but a variety of variables prevent precise graft calculations. According to recommended hair restoration surgeon Dr. William Lindsey, these variables do prevent accurate calculations and patients should not view follicular unit graft estimations as conclusive data:
Be wary of cookie cutter answers. There are lots of variables: hair to skin color match, thickness of donor hair, waviness of hair, future loss potential, and aesthetic desire.
You can get a guestimate with the calculator or online consultations, but estimates can be off when compared to an actual in person consultation.
For example, earlier this week I saw two hair loss patients who had been shopping at multiple clinics in our area all day. They had estimates ranging from 800 grafts at one extreme to another clinic who said they'd do 6000 grafts and fill the entire balding scalp in one setting. At some point, these fellows are going to have to make a decision and that is quite a range to choose from. I can't stress enough the importance of meeting the doctor at the initial consultation.
William Lindsey, M.D.
_______________
Blake – aka Future_HT_Doc
Editorial Assistant and Forum Co-Moderator for the Hair Transplant Network, the Hair Loss Learning Center, the Hair Loss Q&A Blog, and the Hair Restoration Forum
Follow our community on Twitter
Watch hair transplant videos on YouTube
Get Proven Hair Loss Treatments at the Best Prices by visiting our new Online Hair Loss Product Store
Technorati Tags: hair restoration, follicular unit grafts, hair transplant, hair loss, hair loss sufferer, hair restoration surgeon, donor hair, hair loss patients