This question comes from a member of our Hair Restoration Social Community and Discussion Forums:
Five weeks ago, I underwent a successful follicular unit transplantation (FUT) procedure with a reputable hair transplant surgeon. The healing process was moving along nicely, but earlier today I hit my head on an open car trunk and I'm now worried I may have dislodged or damaged grafts. Can bumping my head 5 weeks after hair transplant surgery affect the final result?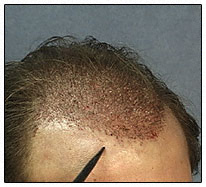 Although I definitely understand your concern, you shouldn't have anything to worry about. The implanted follicular unit grafts are usually anchored between 7 to 10 days after the hair transplant procedure, and unless the "bump" caused a significant cut in the scalp (one deep enough to potentially damage follicles or require sutures which could create scar tissue), you have not damaged any new or native follicles.
_______________
Blake Bloxham – formerly "Future_HT_Doc"
Editorial Assistant and Forum Co-Moderator for the Hair Transplant Network, the Hair Loss Learning Center, the Hair Loss Q&A Blog, and the Hair Restoration Forum
Follow our community on Twitter
Watch hair transplant videos on YouTube
Get Proven Hair Loss Treatments at the Best Prices by visiting our new Online Hair Loss Product Store
Technorati Tags: Hair Restoration, follicular unit transplantation, FUT, hair transplant surgeon, hair transplant, follicular unit grafts, hair transplant procedure