RepliCel, one of the biotechnology firms working toward "permanently solving androgenic alopecia (genetic hair loss)" via hair cloning, recently released updates on its newest clinical trials.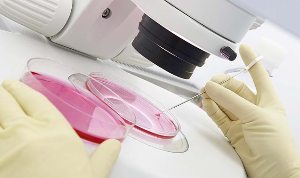 The recent clinical trials demonstrate the newest "test" of the RepliCel hair cloning or hair multiplication technique. In order to truly clone or multiply human hair follicles, the RepliCel procedure relies upon a very new and exciting area of hair restoration research: Dermal Sheath Cup stem cells.
Allegedly, these Dermal Sheath Cup (DSC) cells are regenerative in nature, and allow for the "recreation" of the dermal papilla and additional necessary components of the human hair follicle. In theory, these are the cells (or an important component of a cell system) that allow for continual regeneration of new hairs from hair follicles.
By isolating DSCs, multiplying the cells in large numbers in a special growth medium, and reintroducing the "cloned" cells back into the scalp (via injection), RepliCel hopes to become the first organization to truly offer a "cure" for genetic hair loss.
However, will it work? Can RepliCel succeed where other biotechnology firms have failed? The only certain answer lies within careful, clinical research. But what do the studies say?
During the exciting update, RepliCel released several important pieces of information: first, the initial human trials demonstrated no adverse side effects and suggests the product is safe for medical use; second, many trial participants experienced significant growth from the hair cloning procedure. In some participants, the new hair growth/density increases reached levels as high as 17.2%, 19.2%, and 19.7%. However, other participants reported density decreases/losses as high as 6.2%.  However, cumulative results demonstrated an overall average density increase of 6.2% and a positive level of growth (greater than 5%) in 63% of participants.
According to Chief Medial Officer Dr. Rolf Hoffman:
"The RepliCel TS001-2009 trial was a first-in-man trial with a primary endpoint of safety and this was confirmed emphatically. Even though the size of the trial was only powered for safety measures, secondary endpoints were included in interim analysis to give us an early look at efficacy to allow us to better drive the design of the next steps of the clinical development of the RepliCel procedure."
Darrell Panich, the Vice-President of Clinical Affairs, stated:
"While the interim analysis results show us that significantly more subjects (63%) had an increase in hair density of greater than 5% (vs. control) at six months post injection, some subjects had not yet shown an increase at this time point. Participants demonstrated changes from baseline, as much as 19.6%, while others showed decreases of as much as 6.2%. The overall average, as previously reported, was 6.2%."
RepliCel will continue researching and analyzing the effectiveness of the cloning procedure until 2013. New results, focusing more on efficacy and less on basic safety measures, will be released at that time. Until then, we highly recommend hair loss sufferers remain "cautiously optimistic" toward these new treatments and continue utilizing proven, effective hair loss treatments available today.
__________________
Blake  – aka Future_HT_Doc
Editorial Assistant and Forum Co-Moderator for the Hair Transplant Network, the Hair Loss Learning Center, the Hair Loss Q&A Blog, and the Hair Restoration Forum
Follow our community on Twitter
Watch hair transplant videos on YouTube
Technorati Tags: RepliCel, androgenic alopecia, hair loss, hair cloning, hair multiplication, hair restoration, Dermal Sheath Cup, stem cells, hair loss, hair loss treatments