I am an 18 year old male with hair loss. Will my hair regrow? Is there a natural hair loss treatment?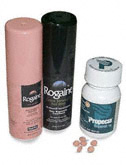 If you are experiencing hair loss, it is most likely due to androgenic alopecia (genetic balding) and will not grow back without treatment. However, there are non-genetic causes of hair loss also, so the best course of action is to consult with a dermatologist in order to determine why your hair is thinning before starting a treatment.
For men with male pattern baldness, the best medical solution is a combination of Rogaine (minoxidil) and Propecia (finasteride). These drugs are the only clinically proven and FDA approved medical hair loss treatments currently available. When used in combination, they offer the best opportunity for retaining existing hair and may even regrow hair that has already been lost.
Other treatments such as low level laser therapy has been considered marginally effective forsome  men and women with thinning hair.  However, how well it really works is still debated by leading hair restoration physicians today.
Unfortunately, there is no proven natural treatment for thinning hair.
—-
David (TakingThePlunge)
Editorial Assistant and Forum Co-Moderator for the Hair Transplant Network, the Coalition Hair Loss Learning Center, and the Hair Loss Q & A Blog.
To share ideas with other hair loss sufferers visit the hair loss forum and social community
Technorati Tags: hair loss, hair loss treatment, androgenic alopecia, balding, baldness, Rogaine, minoxidil, Propecia, finasteride, hair loss treatments, regrow hair, thinning hair