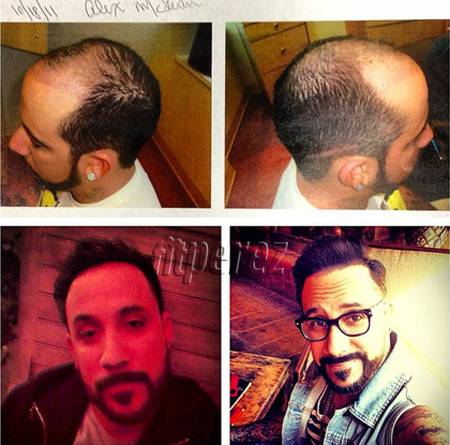 Bucking the celebrity trend of cosmetic surgery denial, singer A.J. McLean of the 90's era boy band The Backstreet Boys recently shared before and after photos of his successful hair transplant.
Normally photographed wearing one of his trademark hats, A.J.'s recent Instagram post lays bare the advanced hair loss he had been suffering prior to undergoing surgery. Though the photo quality is not great, it's plain to see in the after photos that Mr. McLean is now sporting an attractive and stylish new do.
About his decision to pursue hair transplantation, A.J. states,
"Some girls get there [sic] boobs done some guys get abb [sic] implants all to make them happy! This was the one thing I did and I couldn't be happier thank u dr G!!!!"
Hair loss and hair restoration are nothing to be ashamed of. Androgenic alopecia affects 70% of men and 40% of women worldwide over the course of a lifetime. The Hair Transplant Network congratulates A.J. McLean not only for his decision to take control of his balding but also for his courage in going public.
You are encourgaed to add your thoughts and comments about A.J. McLean's hair transplant to the discussion, "Backstreet Boy's AJ Mclean Undergoes Hair Transplant" on our popular hair loss forum.
If you are a man or woman with thinning hair who is considering surgical or non-surgical hair loss treatments we encourage you to consult with one or more of the skilled and experienced hair transplant surgeons we recommend. To learn about our criteria for recommending physicians, click here.
—-
David (TakingThePlunge)
Editorial Assistant and Forum Co-Moderator for the Hair Transplant Network, the Coalition Hair Loss Learning Center, and the Hair Loss Q & A Blog.
To share ideas with other hair loss sufferers visit the hair loss forum and social community
Get Proven Treatments at the Best Prices by visiting our new online hair loss treatment shop.
Technorati Tags: A.J. McLean, hair transplant, hair loss, hair transplantation, hair restoration, Androgenic alopecia, balding, hair loss forum, thinning hair, hair loss treatments