Will the hair transplant of the future be performed by a robot? Coalition hair transplant surgeon Dr. Robert Bernstein of New York recently introduced new advances to the ARTAS Robotic System that bring fully automated surgical hair restoration one step closer to reality.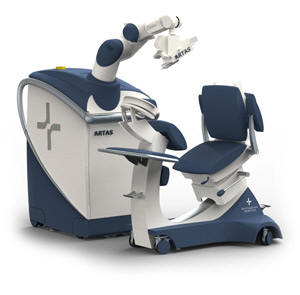 Dr. Bernstein is a pioneer in the use of the ARTAS robot in follicular unit extraction (FUE) hair transplantation. However, to date, hair restoration physicians using the machine have only been able to extract donor grafts. The creation of recipient site incisions remains a labor-intensive procedure performed manually by the surgeon. But, that is about to change with the introduction of new technology that allows the ARTAS Robotic System to quickly and accurately create these incisions.
This new recipient site creation technology, which will be available to hair restoration physicians in the fall of 2014, works in conjunction with software called ARTAS™ Hair Studio. After drawing a hairline and other markings on a patient's scalp, the surgeon takes a series of photos from various angles and then feeds them into the software. The program then converts the images into a 3-D model of the actual patient. The physician then specifies the angle, direction, density, and randomness of the recipient site incisions to create the most natural look. During the procedure, the robot uses image-guided technology to avoid existing hairs while it creates up to 1,500 recipient sites per hour.
On the advancement, Dr. Bernstein said:
"This development is a crucial step towards a robotic system that can perform every aspect of a hair transplant. A great deal of credit goes to the engineers of Restoration Robotics who have worked to make automated recipient site creation a reality. I am proud that this work not only improves hair transplants for patients, but adds to the increasingly important trend of using robotic technology in medicine."
With the ARTAS robot now able to both harvest grafts and create precise recipient site incisions, the next focus of research will be on the robotic insertion of follicular unit grafts into recipient sites. This final step will take several more years to develop.
Perhaps one day, robots will perform all phases of hair transplantation from extraction to implantation. Until that time, hair loss suffering men and women seeking surgical hair restoration (traditional or ARTAS assisted) must continue to rely on a skilled and experienced hair transplant surgeon and staff for the best results. To locate a pre-screened, quality hair restoration physician in your area, view our interactive map. Click here to learn about our recommendation criteria.
To share your thoughts, questions or concerns about the ARTAS Hair Transplant System on our Hair Loss Forum, join the discussion, "Dr. Robert Bernstein Presents Latest ARTAS Robotic FUE Tech: Recipient Site Creation".
Follow Dr. Robert M. Bernstein on Google+
—-
David (TakingThePlunge)
Editorial Assistant and Forum Co-Moderator for the Hair Transplant Network, the Coalition Hair Loss Learning Center, and the Hair Loss Q & A Blog.
To share ideas with other hair loss sufferers visit the hair loss forum and social community.
Technorati Tags: hair transplant, ARTAS, hair restoration, follicular unit extraction, FUE, hair transplantation, hair restoration, hair loss