I have been told that if the hair loss gene is too strong (dad loses hair at very young age) then medical hair loss treatments won't work. Have you seen any evidence to suggest otherwise?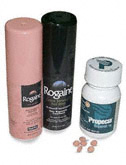 It's important to remember that there are no guarantees with any non-surgical hair loss treatment. Rogaine (minoxidil) and Propecia (finasteride) work very well for some balding men and not at all for others. This is true for any hair loss pattern. However, medical treatments generally work best when started in the early stages of thinning hair.
It's also important to note that there is no hair loss cure. Androgenic alopecia (genetic balding) will eventually overcome the effects of these drugs and hair loss will once again progress.
The only way to know what your experience will be is to use hair growth drugs as directed for up to one full year.
David (TakingThePlunge)
Editorial Assistant and Forum Co-Moderator for the Hair Transplant Network, the Coalition Hair Loss Learning Center, and the Hair Loss Q & A Blog.
To share ideas with other hair loss sufferers visit the hair loss forum and social community
Get Proven Treatments at the Best Prices by visiting our new online hair loss treatment shop.
Watch hair transplant videos on YouTube
Follow us on: Facebook | Twitter | YouTube
Technorati Tags: hair loss, hair loss treatments, Rogaine, minoxidil, Propecia, finasteride, balding, thinning hair, hair loss cure, Androgenic alopecia, hair growth