This question, from a member of our Hair Restoration Social Community and Discussion Forums, was answered by Jotronic – a senior member and consultant for Coalition hair transplant surgeons Dr. Victor Hasson and Dr. Jerry Wong:
I'm looking to undergo hair transplant surgery, but can't spend much time traveling to the office where I would like to undergo a consultation. I'm wondering, are online hair transplant surgery consultations a viable option for me? Are these safe, and can the hair restoration physician really tell if I'm a good candidate by reviewing my case online (virtually)?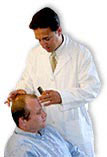 Virtual or online consultations can indeed be a very good resource and of course save you the time and money from flying around the world visiting doctors and clinics. However, you have to realize that the assessment by the hair transplant surgeon is only as good as the photos you send to him/her.
In order to get an assessment that is as accurate as possible you absolutely, positively must take photos that are clear and focused. You'd be surprised how many pictures I've seen where the submitted photos look like a bad action shot. The blur can be unbelievable!
A good start to taking photos for consultation is to simply follow our clinic's recommended guidelines: you should send no fewer than six hair transplant photos to a doctor for consideration. Photos should be of the top, the front, the left and right profile, the back and another of the back with the donor hair separated so the doctor can see the donor area density. Also, be sure to style your hair in way manner that shows the problem areas. Oftentimes I get photos of patients where they style their hair as if they are going out on the town. In other words, they hide the thinning thereby making their photos useless.
Also, be sure to use good all around lighting and not lighting from just one source. No flash from your camera either as that completely misrepresents what is present in reality.
Jotronic
_______________
Blake – aka Future_HT_Doc
Editorial Assistant and Forum Co-Moderator for the Hair Transplant Network, the Hair Loss Learning Center, the Hair Loss Q&A Blog, and the Hair Restoration Forum
Follow our community on Twitter
Watch hair transplant videos on YouTube
Get Proven Hair Loss Treatments at the Best Prices by visiting our new Online Hair Loss Product Store
Technorati Tags: Hair Restoration, hair transplant surgeons, hair transplant surgery, online hair transplant surgery consultations, hair restoration physician, hair transplant surgeon, hair transplant