The following thorough response to a question from the Hair Restoration Social Community and Discussion Forums, was written by forum member "Gillenator".
I've been using Propecia (finasteride) now for about 4 years and I'm very happy with the results but I was noticing my face is getting swollen gradually, especially my cheek since I started taking it. I didn't take care of it and now my face has become puffy. My cheek filled fully with fat and my facial bones are not visible now. My diet hasn't changed.

So now I am going to the gym and doing cardio and my weight is getting reduced but still my face somewhat remains the same. I see no drastic result from going to the gym. I even stopped eating fattening foods.

So my questions are:

Has anyone here faced this puffy cheek problem? If so, what did you do to reduce the puffy cheek and maintain the hair growth?

Is there any alternative medicine (dutasteride or any other) that could maintain my hair without giving me puffy cheeks?
Shall I stop taking finasteride for 3 months and then gradually start taking it with 1 mg per week to stop hair loss? Will this work without increasing hair loss?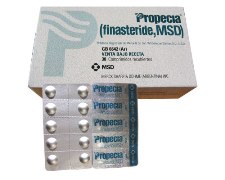 Your puffy cheeks may very well be totally unrelated to taking low dose finasteride. You may have developed a thyroid condition or something else. The only way to know for sure is to have a complete blood work-up done to evaluate any other possibilities. Yes, there's a chance it could be related to taking the drug but unlikely as I have never heard of that side-effect.
Are you by chance taking any supplements or any related to weight lifting such as creatine?
By the way, switching to another form of low dose finasteride probably would not make any difference because they all have the same active ingredient but may come at varying strengths.
Again, I strongly advise that you have blood work done.
– Gillenator
Supporting Hair Restoration Physicians: Dr. Glenn Charles, Boca Raton, FL – Dr. Jerry Cooley, Charlotte, NC – Dr. Jim Harris, Denver, CO – Dr. Robert True & Dr. Robert Dorin, New York, NY
—-
David (TakingThePlunge)
Editorial Assistant and Forum Co-Moderator for the Hair Transplant Network, the Coalition Hair Loss Learning Center, and the Hair Loss Q & A Blog.
To share ideas with other hair loss sufferers visit the hair loss forum and social community.
Technorati Tags: Propecia, finasteride, hair growth, dutasteride, hair loss, Hair Restoration