This hair loss question was answered by Dr. Arthur Tykocinski of São Paulo, Brazil who is a member of the Coalition of Independent Hair Restoration Physicians
Is surgical hair restoration an option for a young man with a balding crown?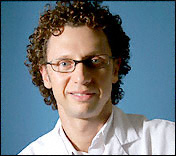 I believe it could be done when the hair loss pattern is already defined and when saving donor hair for the future, if needed. I avoid performing two sessions just on the crown. During the second hair transplant I will add hair at least to the top/tuft area and check if there is still good donor supply to address future hair loss.
If the crown is too big, I definitely would avoid starting hair transplants on it because we would rapidly deplete the donor bank and sometimes not even finish that area.
Dr. Arthur Tykocinski
Technorati Tags: hair restoration, balding, hair loss, hair transplant, hair transplants