Minoxidil has been a double-edged sword for hair loss sufferer ever since it became available. It was a revolutionary medication when first introduced because it was the first hair loss treatment that actually produced results. While no one is going to ever regrow a full head of thick locks with minoxidil alone, coupled with other hair loss treatments such as Propecia it is a powerful tool in maintaining hair counts and, in many cases, regrowing lost hair. There have been numerous studies that conclude that minoxidil can be a powerful weapon in the hair loss sufferers' hair loss treatment regimen.
But minoxidil is no picnic to use. It's greasy and makes the hair sticky and unmanageable. Directly after application, hair looks even thinner than it really is – a real bummer for any hairloss sufferer. There is also the question of whether the medication is actually permeating the scalp at all or just being soaked into the hair shafts, rendering it useless. On top of all this, to apply minoxidil means to drop a full 1 mL of the solution from a dropper directly on to the scalp in the desired location and to try to get the liquid to stay there without touching it. It's an impossible feat. Most users just end up massaging it into the scalp with their fingertips, making an already unpleasant application into an even messier experience. No wonder minoxidil gets such a bad rap.
Enter the minoxidil applicator. The minoxidil applicator was developed by renowned California hair transplant physician Dr. James DeYarman and is even patented. The applicator was designed to assist the user in applying minoxidil into the scalp at a much higher rate of absorption into the scalp and, ultimately, the hair follicles – up to 400% – increasing hair count maintenance and growth. The conventional method of massaging minoxidil into the scalp can render a 50% or more decrease in the drug's potency due to absorption into the fingers. The applicator's design allows the user to effectively apply minoxidil to targeted scalp areas without ever touching the drug, ending the clumsiness of having greasy fingers and rendering the application process much more effective.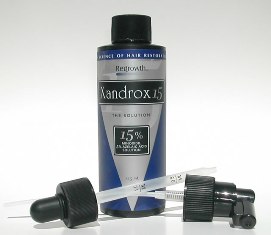 I've used the minoxidil applicator for a couple of years and I cannot imagine applying minoxidil without it. It has certainly helped to make the otherwise unpleasant task easier. While it won't keep the minoxidil out of the surrounding hair, it will assist in decreasing the amount that does get wasted there drastically. And at just $3.95, there really is no reason not to give it a try. The minoxidil applicator can only be purchased from Spenser Forrest's website http://www.regrow.com/rogaine.asp. Spenser Forrest is the same distributor that sells Toppik and other hair loss related products and concealers.
As for minoxidil's greasiness, Dr. Lee at Minoxidil.com offers several minoxidil solutions that are non-greasy and higher concentration than store-bought brands such as Rogaine. His highest concentration available is the Xandrox 15, which contains 15% minoxidil – the highest concentration available. Even more exciting is his anticipated release of a non-greasy 12.5% formula. His current non-greasy solution comes in 5% concentration so watch out for the release of the 12.5%.
Minoxidil may never be the wonder drug that hair loss sufferers once hoped it would be but that doesn't mean that it's not effective. Coupled with other medications, specifically DHT-inhibiting hair loss treatments such as Propecia and Avodart, minoxidil is a no-brainer addition to any hair maintenance and hair regrowth regimen. And with these available developments, it just became a whole lot easier to fit into your lifestyle.
Learn more about minoxidil and how it works to help maintain hair counts and regrow lost hair.
-Robert
Technorati Tags: hair loss, hair loss treatments, minoxidil, hairloss, minoxidil applicator