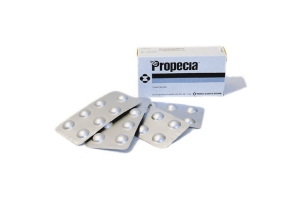 There are thousands of products available to treat hair loss and every single one of them claim to be the best. It can be a daunting task for anyone suffering from male-pattern baldness to research what will work best for them to keep the hair they have and regrow hair they have lost. With this list, I'm going to cut through the hype and lies to present the 5 proven methods that regrow hair.
1. Block DHT –
DHT (Dihydrotestosterone) is the root cause of male-pattern baldness. This potent derivative of testosterone binds to the receptor sites in hair follicles. Over time the DHT binding with these vulnerable receptors in the follicle slowly choke the follicle's ability to produces healthy hairs.
To effectively combat hair loss you have to attack it at its source. There is currently only one DHT-inhibitor that is FDA-approved for the treatment of male-pattern baldness: Propecia. Avodart is another, more potent, DHT inhibitor that is available, however it is not approved for the treatment of MPB.
To find out which DHT inhibitor is right for you see the article, "Propecia vs. Avodart: Which Internal DHT Inhibitor Should You Choose?"
View charts that illustrate the efficacy of Propecia.
View charts that illustrate the efficacy of Avodart.
2. Stimulate Hair Growth –
The only other medication FDA-approved for the treatment of male-pattern baldness other than Propecia is minoxidil (Rogaine).
Minoxidil is available in stores in two strengths: 2% and 5%. The 2% concentration is marketed as "regular strength" while the 5% is touted as "extra strength." The 2% concentration is also available for use by women. There are other companies that distribute concentrations as high as 15%.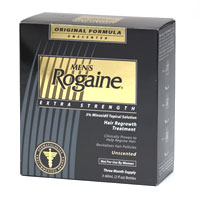 Minoxidil is a lotion that is applied directly to the scalp twice per day. The user must continue applying the treatment for an indefinite amount of time, or as long as he wishes to keep the hair that is grown by minoxidil. The application process is fairly simple. The standard amount in each bottle is 60 mL of fluid. The suggested application is 1 mL to the area twice daily, so one bottle equates to 30 days of minoxidil. The lotion is applied by a dropper to the scalp and is rubbed into the scalp.
It is generally accepted (and advertised on Rogaine boxes and literature) that minoxidil can start growing new hair in about four months. Users can experience growth a little sooner and a little later than the advertised four months, however.
Learn more about minoxidil and how it works.

3. Optimize Scalp Conditions –
Nizoral shampoo creates optimum scalp conditions. It has been proven in studies to increase hair count. It truly is the only shampoo available that will help stop hair loss and promote regrowth. There are two concentrations of Nizoral available. The 1% concentration is available over-the-counter under the label "Nizoral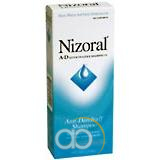 AD." The more potent 2% concentration is only available by prescription for U.S. residents.
Nizoral is most effective when used three times per week, alternated with a gentle thickening shampoo such as Nioxin. Application time should be around 5 minutes.
4. Hair Restoration Surgery –
The only way to guarantee hair growth is to have DHT-resistant follicles located at the back of the scalp surgically transplanted to the thin spots at the hair line, forelock, vertex or crown. Surgical hair restoration is the #1 elective surgical procedure utilized by American men. However, before jumping into hair transplant surgery, do your research! There are many things to consider. Ask questions and share ideas with other hair loss sufferers at the Hair Restoration Research Forums.
View visits to leading hair restoration clinics.
View Hair Restoration Surgical Workshops.
5. Healthy Lifestyle –
A proper diet, healthy lifestyle, and adequate vitamin intake all contribute to overall health, which in turn contributes to hair health. While malnutrition only contributes to about 3% of all hair loss cases, being healthy will always help out with your overall hair health and success in regrowth.
Next: Myths Surrounding Hair Loss
-Robert
Editor of the Hair Loss Q & A Blog.
Technorati Tags: hair loss, male-pattern baldness, regrow hair, DHT, Dihydrotestosterone, bald, testosterone, hair follicles, healthy hair, DHT-inhibitor, Propecia, Avodart, MPB, minoxidil, Rogaine, Nizoral, Nioxin, follicle, hair restoration, hair transplant