This question comes from a member of our Hair Loss Social Community and Discussion Forums: 
Several months ago, I began taking Propecia (finasteride) for my progressive hair loss and experienced significant side effects. After stopping the medication, I switched to Avodart (dutasteride), another medication sometimes indicated in hair restoration, and did not experience any adverse side effects. Is there a reason for this? Should I continue taking the Avodart?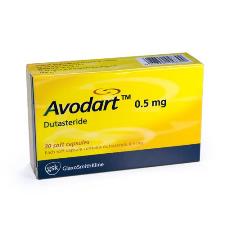 Finasteride (the active ingredient in Propecia) works by blocking the DHT (dihydrotestosterone – the hormone responsible for genetic baldness) converting activity of the type II 5-alpha-reductase enzyme. Dutasteride (the active ingredient in Avodart) works by inhibiting the activity of both the type I and type II 5-alpha-reductase enzymes. Although Propecia is shown to be just as effective, I'm not certain that utilizing one medication over the other would produce different side effects, as they are very, very similar drugs.
Regardless, there could be a variety of reasons why the Avodart is working without negative side effects, and if this will help prevent the progression of your hair loss, I think you should confirm and safety and efficacy of the pill with your hair restoration physician and keep utilizing it as a preventive measure. Additionally, keep in mind that Propecia is the only oral medication officially approved for treating progressive hair loss and usually causes side effects in a very small patient population (according to the official studies, less than 3%).
Furthermore, you may want to consider a consistent minoxidil (Rogaine) regimen, as this is a very effective preventive hair loss mediation as well.
_______________
Blake Bloxham – formerly "Future_HT_Doc"
Editorial Assistant and Forum Co-Moderator for the Hair Transplant Network, the Hair Loss Learning Center, the Hair Loss Q&A Blog, and the Hair Restoration Forum
Follow our community on Twitter
Watch hair transplant videos on YouTube
Get Proven Hair Loss Treatments at the Best Prices by visiting our new Online Hair Loss Product Store
Technorati Tags: Hair Loss, Propecia, finasteride, Avodart, dutasteride, hair restoration, DHT, dihydrotestosterone, genetic baldness, hair restoration physician, minoxidil, Rogaine, hair loss mediation