After a hair transplant procedure, what happens to the donor area? Does the donor hair grow back or not?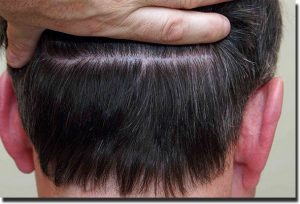 Hair removed from the donor area will not grow back after a hair transplant procedure.  Quite literally, a strip of tissue is removed containing the hair follicles during a FUSS (Follicular Unit Strip Surgery) procedure and during FUE (Follicular Unit Extraction), each follicle along with the tissue is removed. These hair follicles are implanted into recipient sites made by the hair restoration surgeon in balding areas.  But the donor area will be closed and sutured/stapled and in most cases, heals to a very thin and fine scar.  With any surgery, risks exist.  Be sure to learn how the hair transplant procedure works and any possible risks before undergoing surgery.
Written and Published By,
Bill – Managing Publisher of the Hair Transplant Network, the Coalition Hair Loss Learning Center, and the Hair Loss Q & A Blog.
To share ideas with other hair loss sufferers visit our Hair Restoration Discussion Forum.