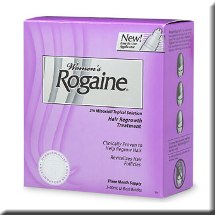 Rogaine (minoxidil) is a proven, preventive hair loss treatment. Unlike some other therapies – like Propecia (finasteride) – Rogaine is an approved treatment for both male and female hair loss sufferers. Although the product is safe and effective for both men and women, the makers of Rogaine still offer two separate, sex-based solutions: Rogaine (available in foam and liquid forms) and Rogaine for Women.
Minoxidil is the key ingredient in both solutions.  So what is the difference between regular Rogaine and Women's Rogaine?  While men's Rogaine is available in both a 2% minoxidil and 5% minoxidil concentration, Rogaine for Women is only available as a 2% minoxidil solution.
Minoxidil is most commonly associated with three major side effects: low blood pressure (hypotension), "light headedness," and allergic skin reactions. Because these side effects are allegedly more common in women, the US Food and Drug Administration (FDA) has only approved the less concentrated, 2% solution for women.
Thus, the only difference between regular Rogaine and Rogaine for women is the concentration of minoxidil.  Regular Rogaine is available in both 2% and 5% solutions, while Rogaine for Women is strictly a 2% minoxidil solution. According to the FDA, this is because the 2% minoxidil product decreases the potential for side-effects in the more susceptible female patient.
Some female patients do however, enjoy the additional benefits of 5% Rogaine without experiencing side effects.  Female hair loss patients are strongly advised to consult a dermatologist to determine its cause before using any hair loss treatments.
_________
Blake Bloxham – formerly "Future_HT_Doc"
Editorial Assistant and Forum Co-Moderator for the Hair Transplant Network, the Hair Loss Learning
Center, the Hair Loss Q&A Blog, and the Hair Restoration Forum
Follow our community on Twitter
Watch hair transplant videos on YouTube
Technorati Tags: Rogaine, minoxidil, hair loss, Propecia, finasteride, female hair loss, Rogaine for Women, Women's Rogaine, Female hair loss, hair loss treatments