Sat 11 Feb 2012
I just came across an article on a tattoo that looks like a buzz cut. Looks like a clever idea!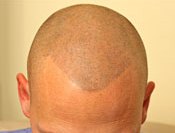 This procedure is known as scalp micropigmentation (SMP) and has been a topic of much recent discussion on our Hair Restoration Forum and Social Network. Coalition hair restoration physician Dr. Bill Rassman began offering SMP last year at his LA clinic.
Aside from simply creating a "buzz cut" effect, SMP has also been used in conjunction with hair transplantation as a permanent hair loss concealer and is also used to mask linear scars from follicular unit hair transplantation (FUT).
At present, there are not many examples presented by hair loss sufferers who have undergone this procedure and questions remain regarding how well it stands the test of time.
That said, its potential is intriguing and perhaps more information will become available as balding men and women continue to take advantage of it.
—-
Technorati Tags: scalp micropigmentation, SMP, Hair Restoration, hair transplantation, hair loss, follicular unit hair transplantation, FUT, balding
Related Posts
One Response to "Concealing Hair Loss with Scalp Micropigmentation (SMP)"
Deepak Kalia Says:
February 11th, 2012 at 9:59 am

SMP would not behelpful in people with grey hairs.They would have to dye their hairs permanently.
Add a Comment