Tue 8 Dec 2009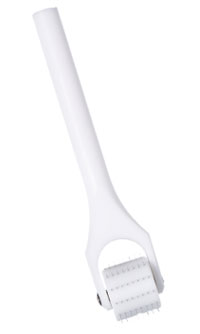 Every now and again, new alleged treatments for baldness surface and are worth discussing. Recently, the scalproller was mentioned and discussed on our hair restoration forum.
The scalproller is a microneedle roller designed to traumatize the scalp on the theory that it can stimulate hair regrowth. It's often combined with other hair loss treatments such as Rogaine (minoxidil) and/or the experimental Platelet Rich Plasma (PRP) procedure in order to enhance the effect or facilitate absorption of the treatment.
But is there any scientific data to support the theory that injury to the scalp can stop hair loss or enhance the benefits of other solutions? View this hair loss discussion thread to read more and offer your own input on the Scalproller and how it may or may not effectively treat baldness.
Bill Seemiller
Associate Publisher/Editor
Technorati Tags: treatments for baldness, scalproller, hair regrowth, Rogaine, minoxidil, hair loss, treat baldness
Related Posts
One Response to "Can the Scalproller Effectively Treat Hair Loss?"
DHT Says:
December 19th, 2009 at 10:34 pm

It seems that the only benefit a user would get in terms of hair loss comes from the "other" hair loss treatments (i.e. Rogaine or PRP) rather than any effect from the roller itself.
Add a Comment