Wed 29 Dec 2010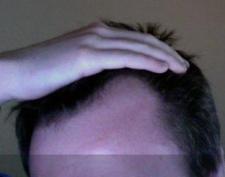 The subject of hair loss discovered early in teenage patients is a common discussion topic at our Hair Restoration Social Community and Discussion Forums. Although the degree and circumstances surrounding the teenage hair loss are normally unique, the answer to the question of whether hair transplant surgery is an option for teenage patients is almost universally the same.
Altogether, surgical hair restoration is not an option available to teenage patients. Although this sounds a bit generalized, it's important to note that there are several reasons why this treatment is not appropriate for teenage hair loss sufferers and also that several safe, effective therapies are available for these individuals.
First, and foremost, hair transplant surgery is not appropriate for teenage patients because the progression of the hair loss is completely unknown, and recreating hairlines and frontal portions of the scalp in the present could result in an unnatural future appearance if the balding continues.
Second, in teenage patients, it's difficult to tell whether or not miniaturization in certain areas of the scalp, such as the temple region or frontal hairline, is truly genetic baldness or natural "hairline maturation" (very few individuals, even those not suffering from any type of hair loss, retain an adolescent hairline). If this hair loss is simply maturation, then any sort of intervention, especially surgery, may be unnecessary. Third, because of the potential for continued growth and maturation, it simply isn't advisable to perform this type of cosmetic procedure on an teenager.
However, there are certain steps that teenage hair loss sufferers can take to understand the situation and prevent or slow hair loss. First, all teenage individuals who believe they are experiencing some type of hair loss should make an appointment with a dermatologist to ensure that the recession exists and isn't caused by an outside source (illness, fungus or bacteria, etc). Second, teenage individuals (especially those 18 and older) should investigate preventive medications like finasteride/Propecia and minoxidil/Rogaine as soon as possible. Utilizing these medications early will help stabilize the hair loss at a premature state and allow for additional treatment, such as hair transplant surgery, in the future.
Although hair transplantation may not be an option for teenage patients, there are definitely various ways to catch and battle hair loss from an early, controllable state.
_______________
Blake – aka Future_HT_Doc
Editorial Assistant and Forum Co-Moderator for the Hair Transplant Network, the Hair Loss Learning Center, the Hair Loss Q&A Blog, and the Hair Restoration Forum
Follow our community on Twitter
Watch hair transplant videos on YouTube
Get Proven Hair Loss Treatments at the Best Prices by visiting our new Online Hair Loss Product Store
Technorati Tags: hair loss, teenage, Hair Restoration, teenage hair loss, hair transplant surgery, surgical hair restoration, teenage hair loss sufferers, hairline, balding, teenage patients, genetic baldness, hair loss sufferers, finasteride, Propecia, minoxidil, Rogaine, hair transplantation
Related Posts
2 Responses to "Teenage Hair Loss: Is Hair Transplant Surgery an Option?"
Ru Guyton Says:
July 2nd, 2012 at 10:57 am

Our Daughter Fleur (now 17 years old) had treatment for Leukeamia 11 years ago. The radiotherapy damaged her hair follikals. Fleur has the Inralace system from Lucinda Ellery London, but funding from the PCT will stop june 2013. Who will be able to help her (us)

Kind regards Ru Guyton

David aka - TakingthePlunge Says:
July 2nd, 2012 at 11:09 pm

Ru Guyton,

I'm afraid I have no information regarding potential sources of medical funding to those with hair loss. Your doctor may be able to suggest alternate avenues to pursue once the PTC expires.

You may also find answers by starting a discussion thread on our Hair Loss Forum. Perhaps one of our knowledgeable members may be able to assist.

David
Add a Comment