Wed 4 Apr 2012
This question comes from a member of our hair loss social community and discussion forums: 
I recently read about a future hair loss treatment that re-vitalizes dormant hair follicles via an injectable solution. I underwent a hair transplant procedure in the past, and now I'm worried about the following: if I have grafts implanted over dormant follicles, will these grafts create an abnormal appearance or restrict growth when the dormant follicles re-grow (with the hypothetical help of the injectable solution)?
Although this is all very hypothetical at this point, I'll do my best to address this issue: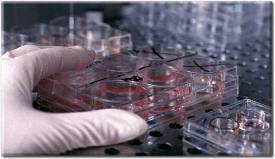 Restoring density with hair transplantation, on average, does not re-create the natural density of hair unaffected by any sort of androgenic alopecia. Because of this, the likelihood that a hair transplant surgeon implanted a graft over a dormant follicle (to a point where it would be directly affected by the graft) is not all that likely.
Furthermore, these future, non-invasive treatments do not (to my knowledge) claim to regenerate every dormant follicle on a hair loss sufferer's head. This means that in order to experience a situation where two follicles (one implanted and one previously dormant) interact, one follicle must be implanted, in very close proximity, to another that is completely regenerated by the futuristic therapy.
For example, if you've restored a hairline at an estimated 35% it's original density and added a non-invasive, restorative treatment that (by certain organization's own estimations) will increase density by 20%, the chances of implanting a follicle (35%) over a regenerated follicle (20%) are fairly "slim" (0.35 * 0.20 = 0.07 or 7%).
Utilizing these numbers, it's not too difficult to conceptualize that the cumulative result of the two treatments (surgery and the non-invasive therapy) really shouldn't result in any sort of dramatic abnormalities or disruption between re-growing and implanted follicles. However, at this point in time, it is a bit early to accurately discuss these types of "future medical treatment" issues.
_________________
Blake – aka Future_HT_Doc
Editorial Assistant and Forum Co-Moderator for the Hair Transplant Network, the Hair Loss Learning Center, the Hair Loss Q&A Blog, and the Hair Restoration Forum
Follow our community on Twitter
Watch hair transplant videos on YouTube
Technorati Tags: hair loss, future hair loss treatment, hair follicles, hair transplant, hair transplantation, androgenic alopecia, hair transplant surgeon, hair loss sufferer
Related Posts
Add a Comment