Wed 18 Apr 2012
Category:
Common Questions
,
Female Hair Loss
,
General Hair Loss Topics
,
Hair Loss Blog
,
Herbal Treatments
,
Low Level Laser
,
Non Surgical Treatments
,
Propecia (Finasteride)
,
Rogaine (Minoxidil)
,
Scams
,
Shampoos
,
Topicals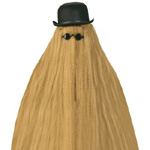 Treating hair loss is a multibillion dollar industry. Unfortunately for the millions of balding men and women across the globe, sorting out effective non-surgical hair loss treatments from the multitude of hair growth scams out there can be tough.
Those suffering from androgenic alopecia (pattern baldness) have a veritable cornucopia of herbal and drug-based topicals, tablets, shampoos and even mechanical devices to choose from. Many of these products make lofty claims to turn back the clock and restore bald heads to luscious, flowing locks. But buyer beware! Currently there is no hair loss cure. However, there are a few select products that are clinically proven and FDA approved or simply offer compelling evidence to support their claims to regrow hair.
To learn more about which treatments are really effective for thinning hair read the article:
Which Hair Loss Treatments Really Work?
To purchase credible treatments for balding at extremely low prices, visit our online hair loss treatments store.
—-
David (TakingThePlunge)
Editorial Assistant and Forum Co-Moderator for the Hair Transplant Network, the Coalition Hair Loss Learning Center, and the Hair Loss Q & A Blog.
To share ideas with other hair loss sufferers visit the hair loss forum and social community
Get Proven Treatments at the Best Prices by visiting our new online hair loss treatment shop.
Watch hair transplant videos on YouTube
Follow us on: Facebook | Twitter | YouTube
Technorati Tags: hair loss, balding, hair loss treatments, hair growth, androgenic alopecia, baldness, bald, hair loss cure, regrow hair