Tue 17 Sep 2013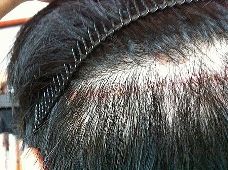 For many patients, "shock loss" is a dreaded term. Shock loss (sometimes called "post-operative telogen effluvium") is described as any sort of rapid, synchronized hair loss experienced shortly after hair transplant surgery. In nearly all cases, the hair loss is seen in areas of scalp manipulated during surgery. Most commonly, this means either the donor region (where follicular unit grafts (FUGS) are either extracted individually via Follicular Unit Extraction (FUE) or as a strip via Follicular Unit Strip Surgery (FUSS)) or the recipient region (where the incisions for the new grafts are created).  The shedding from shock loss can be severe, and often causes hair transplant patients to panic. But what actually causes shock loss? Is it permanent? What can be done to prevent it?
Theories on what actually causes shock loss vary. However, most (myself included) believe it is best explained and understood by reviewing the two most common "shock loss scenarios:"
When and Where does Shock Loss Occur?
1. Shock loss in miniaturized hairs in the recipient region
Often times, patients with some thin hair remaining in the recipient region experience severe shock loss post-surgery. The remaining hairs suddenly, and dramatically, shed in a synchronized fashion a few days to weeks after the operation. Most experts believe these hairs come from follicles already affected by hormone-mediated, androgenic alopecia ("genetic patterned hair loss"). This means the follicles are weakened and miniaturized, and the trauma to the region and diversion of blood supply caused by the incisions and new graft growth overwhelms the fragile follicles. This results in the rapid shedding and appearance seen in patients suffering shock loss.