Thu 12 Sep 2013
Because of his extensive background in both general plastic surgery and hair restoration surgery, Coalition physician Dr. James Vogel is often asked about his philosophy and view on hair transplantation. Recently, Dr. Vogel sat down with Plastic Surgery Practice – an online journal and reference for practicing plastic and cosmetic surgeons – to answer questions about the past and future of hair transplant surgery.  Plastic Surgery Practice asked Dr. Vogel about the "pluggy" hair transplant procedures of the past, repair surgery, modern follicular unit hair trasplant surgery (FUT), and why hair surgery continues to grow in popularity. Below are some of his responses:
On poor results and repair procedures:
PSP: Why are men seeking revision hair restoration surgery now?
JV: These men are in their early 30s or early 40s and had procedures in their early 20s that were ill-conceived, and now they are also having progressive hair loss. They look bizarre with progressive hair loss on top of clumps, pitting, or sunken-down grafts. In some cases, shorter hairstyles are rendering scars in the donor area visible, and people are interested in camouflaging or improving these scars.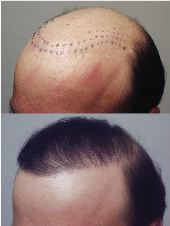 PSP: How do you approach these patients?
JV: The first and most important thing has nothing to do with the scalpel. It has to do with understanding the problem and showing these patients that you are someone who cares. A lot of men are angry and distrustful as a result of their initial surgery. The surgeon has to be able to convey that he or she has the expertise to do the work and understands the problem.