Sun 12 Jan 2014
This question comes from a member of our hair loss social community and discussion forums: 
I've used minoxidil (Rogaine) for a number of years. During this time, I was able to stabilize my progressive thinning and actually regrow some hair. However, roughly 7 months ago I underwent a hair transplant procedure and now I'm wondering if I can stop the medication? Can I stop minoxidil because of my hair transplant surgery?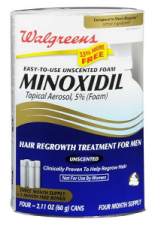 Minoxidil (Rogaine) is known as a "preventive" hair loss medication. This means minoxidil is proven to halt progressive hair loss and restore some thinning, but it only works while taking the medication. If the treatment is stopped, any positive gains will be lost and the on-going hair loss process will continue.
While hair transplant surgery restores hair to thinning scalp, it does not stop progressive balding. If a patient stabilized and restored areas of the scalp with minoxidil and then stopped the medication after surgery, the native hair around the transplant would continue to thin and shed. This could result in an unnatural appearance if the surgery was designed with continual minoxidil use in mind. If patients experienced positive results from minoxidil, they should be aware that these will disappear after stopping the medication; even if they underwent hair transplant surgery as well.
_____________
Blake – aka Future_HT_Doc
Editorial Assistant and Forum Co-Moderator for the Hair Transplant Network, the Hair Loss Learning
Center, the Hair Loss Q&A Blog, and the Hair Restoration Forum