Fri 17 May 2013
This question, from a member of our hair loss social community and discussion forums, was answered by Coalition hair transplant surgeons Dr. Ron Shapiro and Dr. Glenn Charles:
During a recent hair transplantation consult, the physician told me that he will create an "irregular hairline" during my hair restoration procedure. However, I'm wondering why he would chose to do that? Wouldn't a straight hairline look better? Why create an irregular hairline during hair transplant surgery?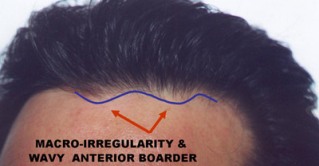 The goal of any hair transplant procedure is creating natural, realistic results. A very important aspect of achieving subtle, realistic results is recreating a natural hairline. Though many individuals assume that hairlines unaffected by hair loss are straight and regularly shaped, this is not the case. In fact, in order to create a realistic hairline, hair restoration surgeons must utilize an irregular, "zig zag" design.
In fact, according to Dr. Glenn Charles:
The term we often use to describe the hairline approach is creating a "regular irregularity." Meaning there has to be a certain degree of randomness to give a natural appearance. However, there also has to be some method to the madness. You could also call this "Zig Zag" hairline design.
Dr. Ron Shapiro agrees, and said the following: