Sun 19 Oct 2014
This question comes from a member of our hair loss social community and discussion forums: 
I've been losing my hair for several years. I initially thought I suffered from androgenic alopecia or male pattern hair loss; however, members of online forums now say it may be diffuse unpatterned alopecia or DUPA. What is DUPA? Can it be fixed with hair transplant surgery?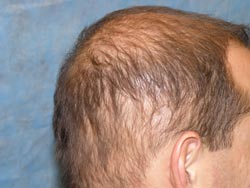 I'm not 100% sold on the idea of "DUPA" or it's cousin "diffuse patterned alopecia" ("DPA").
Traditionally, non-scarring alopecia is broken down into several categories: focal, patterned, and diffuse. Focal alopecia includes conditions like alopecia areata; patterned includes androgenic alopecia and female pattern hair loss; and diffuse covers conditions like telogen effluvium, anagen effluvium, loose anagen syndrome, atrichosis, and hyoptrichosis. However, it does not – traditionally – include "DUPA" or "DPA." Maybe the categorization is out of date, but I generally try to stay away from these terms – or at least from DPA. I do understand that "DUPA" is a good description for one clinical picture – which I will explain below.
I would classify hair loss fitting this diffuse pattern as follows:
Either: diffuse androgenic alopecia that is best described by the Ludwig and not the traditional Hamiltion-Norwood hair loss scale; OR you could call it diffuse unpatterned alopecia if you are experiencing thinning in the donor region (which is the only time I really think this term is appropriate).